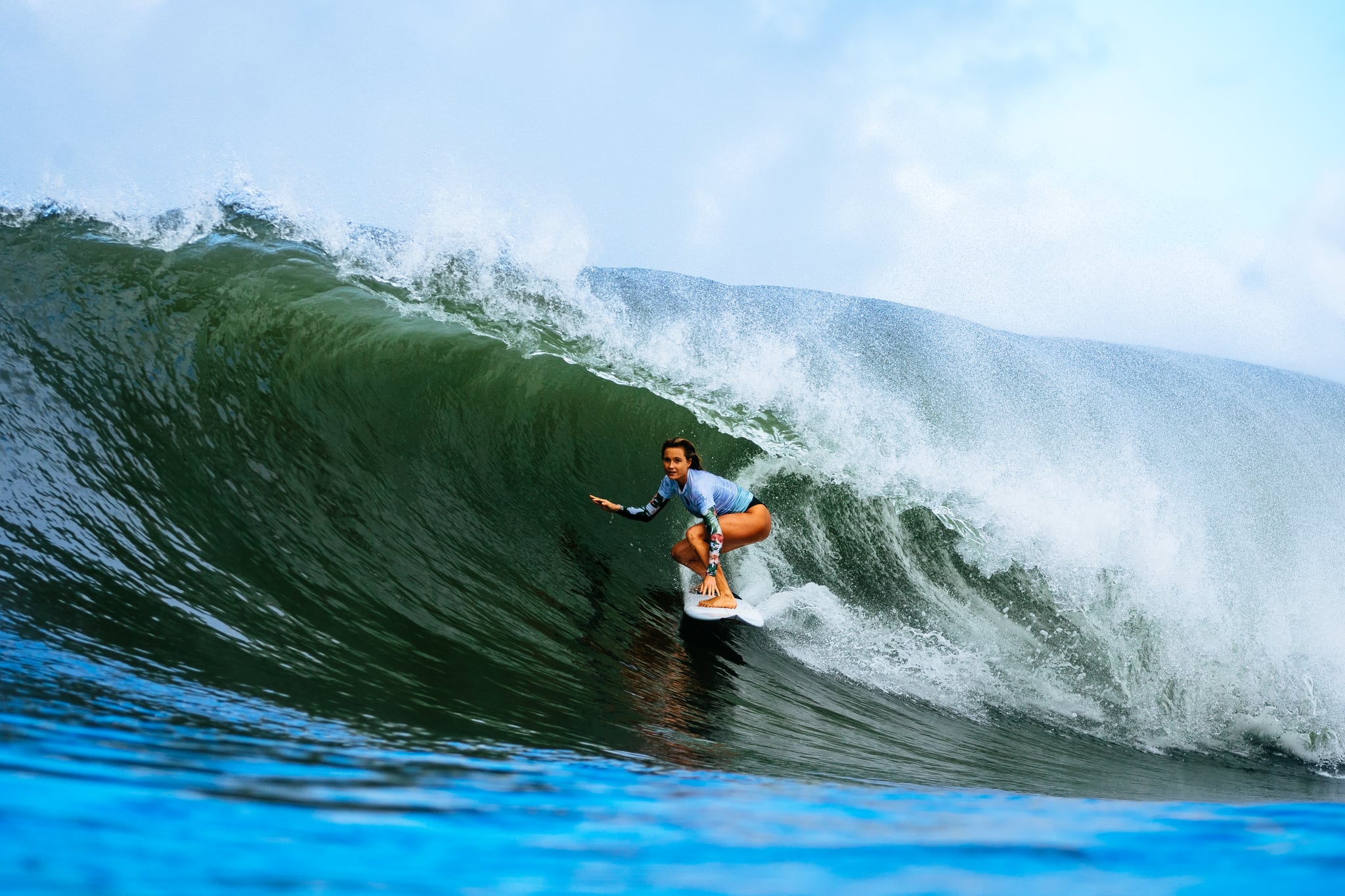 When competing, and even during the off-season, surfers are almost always on the move. After six years on the World Surf League Championship Tour (aka the highest level of pro surfing), pro surfer Alana Blanchard can testify to that: "We're pretty much gone most of the year, traveling," she told POPSUGAR. "The surfing circuit goes all around the world."
"We" includes Blanchard, her fiancé Jack Freestone, a surfer on the men's tour, and their toddler, Banks. In late May, when Blanchard spoke with POPSUGAR, she said they'd usually be in Bali, then move on to South Africa — but obviously, things changed amid the coronavirus pandemic. "There was definitely a bunch of travel plans," she said. "We had no idea this was going to happen." The global pandemic has led to cancellations and postponements for sports across the world, and while some pro leagues are beginning to return, the future for surfing is much less certain. The Championship Tour spans the globe with competitions on every continent besides Antarctica, which means constant and worldwide travel for the athletes and staff. To date, all Champion Tour competitions through the end of June have been canceled or postponed.
Blanchard was planning to compete more often this year, after taking time off following Banks's birth. "I was super excited and I was feeling really good about it," she said. Instead, she's social distancing at home on Kauai, an experience she and Freestone shared with fans in the WSL's "Lawn Patrol" series. While competitions are off, she's focused on staying fit and surfing — when she can, with a toddler running around.
"I always try to work out during Banks's naptime," Blanchard said. Her experience as a surfer on tour has trained her to take advantage of any space or amount of time she has to get in a workout, because when traveling, "you can't rely on a trainer or having a gym," she explained. "You just have to do it when you can, where you can." Blanchard would often opt for 12-minute HIIT workouts in her hotel room, like one she shared recently on her YouTube channel.
Alana Blanchard's Favorite Quick Workouts
As a surfer, Blanchard said that a mix of workout types work best for her. Some days she'll run hill sprints, other days she'll create a strength circuit with weights, squats, and arm moves. "For a surfer, it's good to be well-rounded," she explained. "It's very easy to get injured because it's kind of a sporadic sport. You don't know what's going to happen on a wave." Staying flexible through yoga and stretching is also beneficial, she said.
Alana Blanchard's Top Ab and Glute Moves
Core strength is key too. "I think having a strong core is a huge part of surfing," Blanchard said, noting that surfing is a ab workout in and of itself. "I actually am activating my core pretty much the whole time, even when I'm paddling." Out of the water, Blanchard's current favorite core exercise is hypopressive breathing, a method she's demoed on YouTube. "It's really good for postpartum moms, but also people who have a disconnection between the deep, deep abdominals. Sometimes it's hard to get to that with ab exercises," she said. "I do that a lot and I see such a difference." Blanchard said she also loves to do TRX side planks, targeting oblique muscles.
Glute activation is another priority. Blanchard had back issues last year, something she attributes to having a baby as well as a long-ago injury, and activating your glutes (aka warming them up) can help with lower back pain. Blanchard said her go-to glute activation moves are lunge variations. (Here are more options to try.)
Fitness is important for Blanchard (she's a pro athlete, after all), but after having a baby, she wasn't immediately focused on getting back into competition shape. "At first, I really took it easy," she remembered. "I didn't want to stress out about getting right back into shape. I just wanted to concentrate on how amazing it is to have a baby and what your body can do." She surfed her first big contest about a year after getting birth, which she called "a really cool feeling, and very empowering."
At this point, the biggest benefit she gets out of her workouts is mental. "I always, always feel better after I work out," she said. "I think I work out for my mental [health] almost more than physical, just because I know how happy it makes me."